Available via Skype:

for individual issues


Play, help with schoolwork & craniosacral, in combination as required. Resolve ADD, ADHD, learning issues, trauma etc.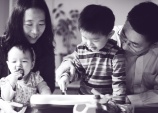 Transformational Parenting Course
Learn a heart centred approach to parenting: Increase trust & co- operation; transform your relationships with your partner, children and yourself.

Transformational Pregnancy Course
Learn to connect with your child in the womb & establish a heart-centred communication before the baby is born.

Empathic attuned attention helps form the infant's social brain, assists verbalising feelings, self-confidence, ability to rely on own emotional regulation and other people to help regulate feelings, and decreases the risk of adult depression and relational problems.
Along with preventing your child from harming themselves, it's the most supportive thing you can do for your child. It literally helps their sense of self develop.
Its easy to do, and allows you to respond calmly, clearly and appropriately.